After enrolling by paying through the PayPal button above, please remember to fill out our registration form by clicking here
Date: March 23rd & 24th, 2024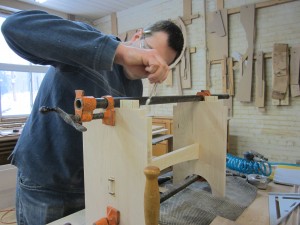 Time: 8AM to 4:30PM
Registration Fee: $495.00 (*plus additional material costs – see below)
Minimum Enrollment: 6
Gift Certificates available!
This course is geared to beginners looking to understand the fundamentals of furniture and cabinet construction, and intermediate woodworkers hoping to expand their skills. We will go over such topics as buying and preparing solid wood for projects, understanding and allowing for seasonal movement, power tools – hand and stationary, shop space and equipment, types of joints, layout tools, hand planes vs. sanders, and finishing.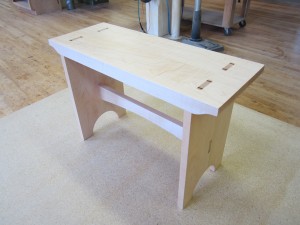 Each student will get the opportunity to construct a small project such as a bench that will utilize the techniques explained in the course.
In the class, we will begin with an overview of the power tools available for use in the shop. We will demonstrate the safety issues associated with each tool as well as their strengths and weaknesses. We will go over how to make a cut list for a project, how to select wood, how to dimension, glue up, and prepare parts for joinery, proper use of the joiner, cut off saw and table saw, which blade works best for the table saw and cut off saw, and how to square up material on a joiner. We will learn about hand planes, what they are best at, how to choose and how to sharpen the blade. We will go over how to organize parts for stress free glue ups. We will touch on hand applied finishes vs. spray finishes.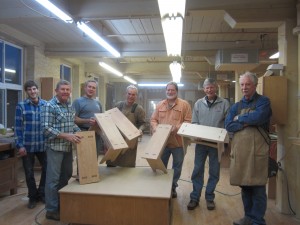 As a reference, we will use "The Complete Illustrated Guide to Furniture & Cabinet Construction" by Andy Rae, published by Taunton Press.
Tool Requirements:
16' tape measure
Combination square
Block plane (optional)
Set of bench chisels – ¼" thru 1" (optional)
Notebook and pencil
Safety glasses, ear attenuators, dust mask (also available in shop)
6" rule
*Material Cost: Your choice of Maple, Oak, or Cherry + $75.00