Course Director: Edward Schoen
While a student at Bucks County Community College studying music in the mid 70's I was required to take a Fine Arts class and the only one I was interested is was Woodworking 1. I took the course, loved it, took Woodworking 2, and completed it only to want to take more but no more courses were offered. My instructor & I decided to create the next level, Woodworking 3 which we worked on together. Those courses plus Fine Woodworking magazine and books changed the direction I was heading.
I moved to Northern California in 1978 where I worked at various cabinet shops making roll top desks and hardwood doors. After attending a seminar by James Krenov in Mendocino, that summer I decided I would apply to the future Fine Woodworking program at The College Of The Redwoods. I was accepted and graduated from the 1st class of the college. After graduation I moved back to Pa. and worked in various cabinet shops before being hired by a well known Bucks Coun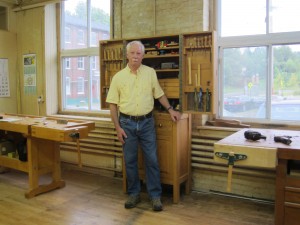 ty furniture maker. After 6 months of doing piece work I was promoted to run the shop which included interviewing, hiring, scheduling, and overseeing, upon where I worked for 9 years and in charge of 30 cabinetmakers.
In 1992 I left that company to pursue furniture making full time on my own, including design, meeting with clients, building, finishing, and installing if needed.
My own furniture making business, Signature Gallery LLC (www.signaturegalleryfurniture.com) was opened in 1987 where my wife Sherrie and I sold all handmade items from my furniture to accessories for the home. My full time business is still going on here in Royersford, Pa.
I have edited articles for Rodale Press, have been featured in American Woodworker magazine, Audio Video Interior magazine, The Philadelphia Inquirer, and other local newspapers. I have exhibited at the Philadelphia Furniture and Furnishings Show for the last 18 years, the ACC Craft Show in Baltimore for 4 years, and in 2013 the Washington Craft show.
Both The Times Herald and The Mercury have covered our classes:
http://www.pottsmerc.com/business/20131024/royersford-furniture-maker-passes-skills-to-others
http://www.timesherald.com/business/20130927/woodcarving-master-to-teach-classes-in-roysersford
http://media.timesherald.com/2013/09/17/photos-ed-schoen-at-work-in-is-woodwork-shop-in-royersford/#5