In this class we will build on the techniques used in Furniture & Cabinetmaking 1 & 2. We will construct a cabinet with paneled sides, hand dovetail & fit a drawer, and build & fit a door. We will go thru the design process of the cabinet we are building concentrating on not only overall proportions but the relationship of doors to drawer size, and thickness of legs to cabinet size to achieve a balanced look. We will look at ways to scale projects from photos and show various mock-up ideas to help with the overall size. There will be more hands on router usage for edge detailing and door construction as well as various low cost methods for door construction.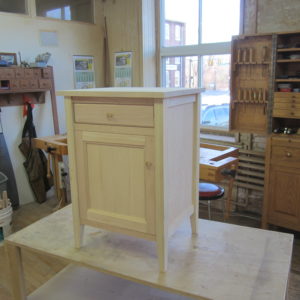 Course requirements:
Intro to Furniture & Cabinetmaking 1, Woodworking & Furniture Making 2, or verbal skill interview determination.
Tool requirements:
Combo square
Tape measure
Set of bench chisels, 4 piece 1/4″ to 1″ (optional).
Deadblow mallet (optional).
Dovetail saw (optional).
6″ rule
Notebook & pencil.
Cost:
$325.00, plus additional material charge – see below.
DATES:
To be scheduled.
Gift Certificates available!
This project will be 26″ high x 20″ wide x 16″ deep. The additional cost for materials in Maple is $125.00, in Red Oak is $150.00, and in Cherry is $175.00