Veneering is popular due to the wide selection of woods that are only available in veneer form.  Veneering panels or table tops diminish the seasonal movement caused with solid wood only construction and open up new design horizons.  In this course we will cover many aspects of veneer, such as:
Where and how to buy veneer
What makes one flitch better than another
How to seam up and join veneer
Best substrates and glues for veneering.
Clamping to forms
Veneering with a vacuum press
Edge details of veneered tabletops or panels
Common veneering mistakes and how to fix them
Participants will learn by building a small table top, box lid, or curved apron for a small table.
Course pre-requisite:
Introduction to Furniture and Cabinetmaking 1 or verbal skill interview determination
Tools required: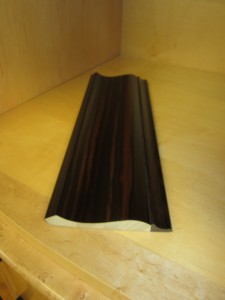 Tape measure
Framing square
Combo square
Box knife
Cabinet scraper
COST:
$325.00
DATES:
New classes coming soon for 2017.  Call for info!