You walk into a home center to buy some chisels or a plane and they just never seem to work right.  Is it the tool or the fool?  Well, sometimes it is the tool. But most times it is because the tools are never right just out of the box (or blister pack).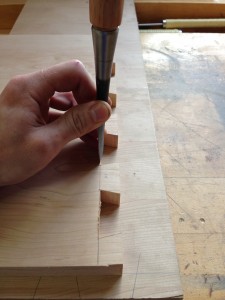 We will show the best choices for planes, chisels, and dovetail saws, as well as power sharpening devices like Workshop Sharpening System, slow speed grinder, the Tormek Sharpening System, and the Makita Water Stone sharpener.  We will demonstrate how to properly sharpen chisels and plane irons, and how to keep them sharp.  You will learn how power sharpening devices, sand paper, and water stones can co-exist.  We will use Japanese saws and demonstrate the differences between Japanese and western tools. We will also demonstrate proper techniques for flattening and smoothing boards with hand planes as well as planing edges with various types of block planes. And, demonstrate the use of dovetail saws and how to lay out dovetail joints. You will be able to practice your techniques for sharpening, planing, and sawing with step by step guidance.
Course Prerequisite: 
None
Tools required:
Combo square
Tape measure
6" rule
Dovetail Saw (optional)
Bench Chisels ¼" – ¾" (optional)
#4 Hand plane (optional)
Block plane (optional)
The above optional tools are available in the shop for you to try before buying for personal use.
COST:
$175.00
DATES:
New classes coming soon for 2017.  Call for info!